GOLDEN RULES OF TRADING IN SHARE MARKET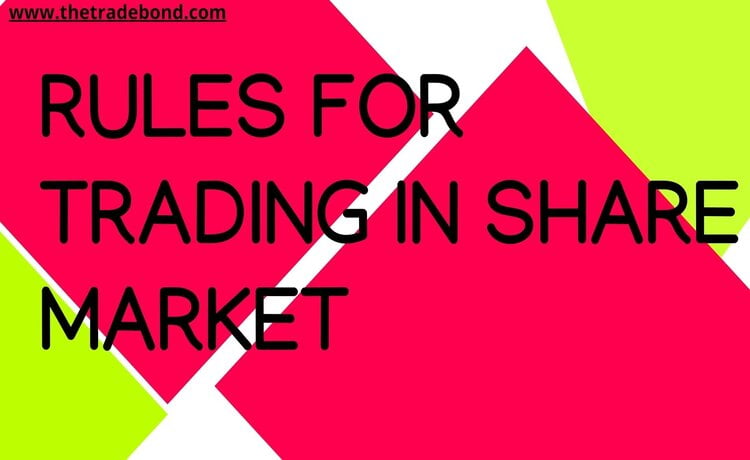 When you are starting any game, or investing, or any business it is very important for you to know what is its rule. Same with investment also when you are about to start your intraday trade it is very much important that you should know what are the share market trading rules. These rules will help you from booking huge losses. So do remember them while trading.
ALWAYS GO WITH REGISTERED BROKERS AND INVESTMENT ADVISOR– It is advisable not to go for unregistered brokers or investment advisors as they do not have the right to do so. In order to avoid fraudsters go with a registered person only.
DON'T GO WITH RUMORS

 

– There are many fake people moving around spreading fake news don't listen to them. Always believe trustable sources.
CHOOSE RIGHT STOCKS

 

– Since you are about to invest your hard-earned money on the share you choose it is very important that you select the right stock. Choosing wrong can end up giving you loss.
ALWAYS USE STOP LOSS– It is very important to use a stop loss. Don't hesitate while putting stop loss on your trade. Stop-loss always saves you from booking huge losses. So it is better o book small losses instead of losing our whole investment.
STAY ALERT– if you trades are running stay alert. Keep yourself update with the news. Single news can turn your profit into a loss. So stay alert.
DON'T OVERTRADE– If you like trading and want to earn money quickly don't forget in one day you cannot become a billionaire. So don't over trade booking small profit daily is better than earning a big profit in a single day.
DON'T GET EMOTIONAL– don't bring your emotions in between trading. Trade with a mind not with the heart.
NEVER BORROW MONEY FOR INVESTMENT– Investment you make is always at risk. So never borrow money for investing in the share market. Invest only that much amount on which you can risk.
DIVERSIFICATION– never invest your whole amount on a single script. In case you are about to book loss you don't risk whole investment on a single trade.
DO SOME RESEARCH WORK– The script you chose in equity or future market r the strike price you select in nifty and bank nifty do some researches work. Don't invest blindly. Learn about indicators and reports.
DON'T BE GREEDY– book profit and take an exit, do not wait for big profit .book the ongoing profit doesn't be greedy.
IT IS OK TO BOOK LOSS– Don't afraid of booking a loss. Profit and loss booking is part of trading. So go with it. Don't overthink of loss. Try to focus on profit-making strategies.
Next time whenever you trade remember these share market trading rules. these rules will minimize your loss and maximize your profit.
Please fill the form mentioned below
FILL THE FORM BELOW TO GET FREE  REGULAR UPDATES